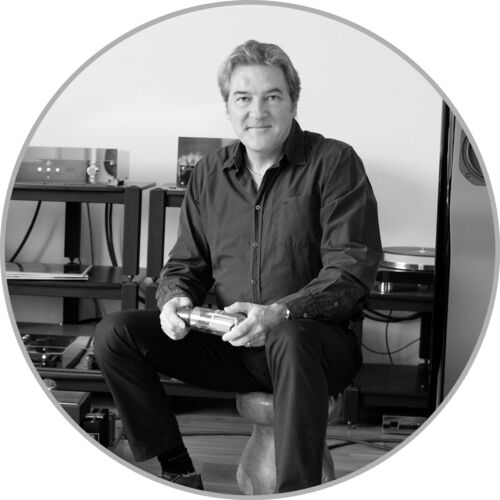 Dear friends of the high-end
Dear friends of the high-end,
since 1981 I have been building and working with fascinating components for music reproduction. My goal has always been to go one step further in achieving my idea of perfect reproduction. This not only involves objective qualities such as tonal fidelity, dynamics or spatial representation; it is also about the highly elusive emotional presence, the profound feeling you get from a live experience.
A good high-end system can do this and thus becomes a machine to travel in space and time. It lets you experience a concert in Kingsway Hall in 1959, transports you to Carnegie Hall or to a jazz club somewhere in New York.
On the following pages, I would like to introduce you to components and accessories that make this fascination possible. I hope you enjoy reading, browsing and looking.
Sincerely, Thoma Kühn
Power
PowerStar, PowerPlant and Ampère keep the sound of your music system clear and clean. They reliably filter out mains noise and hash which disturbs the music reproduction. The sound of your system becomes more natural because everything that comes out of the loudspeaker as music was once electricity from the mains socket.
MusiCable
How do you build a good cable? By making it sound as little as possible. Sounds paradoxical at first, but it is exactly what we want to achieve. Because many cables produce a sound that is supposed to compensate for the sound of the system. But such compensation can never work properly. "Minus" times "minus" gives "plus" in mathematics, but certainly not in music. It is simply impossible to transform a colouration or an intrinsic sonic "footprint" in component A back to natural sound by means of a complementary intrinsic sonic footprint in component B. At best, the colouration or intrinsic sound in component A will be compensated such that it is masked somewhat, which will not satisfy the listener in the long run. The price that has to be paid for this masking effect is less information, less immediacy, less naturalness in favour of a superficially more pleasant sound.
Sicomin
Sicomin improves the set-up of components. Sicomin allows you to set up equipment and individual components specifically vibration-optimized The insight that the placement and mechanical coupling of hi-fi components influences their sound quality is widely known today. This was not always the case: in the mid-1980s, we received an offer for an equipment base that was supposed to drastically improve the sound of electronic components. On the one hand we were sceptical, on the other hand we were curious and so we had the developer, Mr. Mezadourian, demonstrate the platform to us. The platform, made of a carbon fibre-aramid composite, surprised and convinced us right away, although we initially had no technical explanation for the sound effect.